The dryer's exterior termination has often been treated as an afterthought. Many vents are constructed of plastics which deteriorate over time. Some vents are built with light weight metal, extruding far from the wall, which makes them prone to damage. Often, vents have restrictive (and code-disallowed) screens that collect lint. In every case, the old style terminations detract from the beauty of a home's exterior.
Enter the New DryerWallVent
Engineered for a quick, perfect fit for both vent replacement and new construction, this stylish and durable enclosure meets or exceeds all code requirements for safe dryer venting. Heavy gauge Galvalume® steel body with powder coating ensures a long duty life. Clean lines make a nice aesthetic contribution to every home.
Premium Grade Component
Showcase the DryerWallVent as an example of how well the home is built. Attention to such detail is a clear sign of better construction.
Note: Airflow efficiency, while not as glamorous as a nice finish, is very important for dryer venting. Every year, there are thousands of dryer fires across North America. Lint buildup is a major contributing factor. Eliminating restriction-points in the exhaust helps improve safety. It also helps save money on power bills with shorter drying times.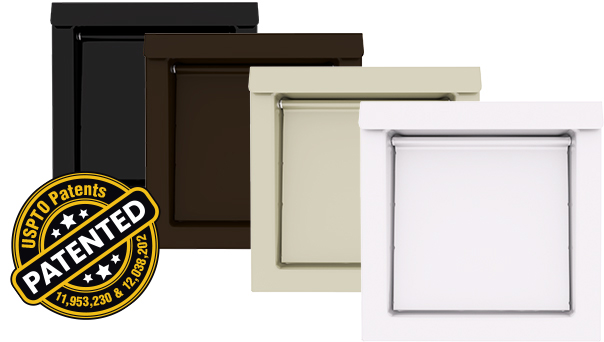 Appearance Matters
DryerWallVents install with a very low to "no" profile. Combined with a complimenting color for powder coating, DryerWallVents tend to blend into the exterior. When looking closer, their tight deep-draw construction and tough-as-nails components shine.
Ease of Installation
Featuring a slightly reduced collar diameter, DryerWallVents mate easily to any 4" duct work. This means it's as easy to add the new vent to existing construction as it is to include it in new construction. Four built-in holes for fasteners are completely covered by the damper. Installation is simply a matter of slipping the collar into the duct, opening the damper and drilling in a quick four screws. For installations with a larger opening through the wall, the secondary back plate allows for a wider fastener footprint.
Longevity
Heavy steel construction, that is Galvalume® and powder coated, provides extra levels of protection against the elements. DryerWallVents are built to last.