Galvalume® steel forged with a deep-draw manufacturing process makes the DryerWallVent tough as nails, delivering serious performance advantages. Made in the USA, sleek lines help it augment exterior aesthetics, and tight engineering helps it stand up to the elements.
Engineering

The patent-pending angled gravity-assist damper receptacle combined with patent-pending integrated magnets make for a smooth, solid closing action that deters birds and rodents and provides layers of protection against the elements. The DryerWallVent now also includes a drip edge for even more help with the elements.

Galvalume® steel that is also powder coated withstands the test of time. Unlike plastics which fade and crack and lightweight metal that easily crushes, this is one vent you can count on for the long haul.

The deep-draw manufacturing process ensures a clean exterior that looks good.



Value

Selecting the DyerWallVent with its serious performance advantages is a great sign that the builder truly cares about the craft. It's a good example to help strengthen homebuyer enthusiasm and trust that this will be a house they will be proud to call a home. Use the DryerWallVent to showcase the exceptional value you bring to the construction of their new home.
Aesthetics

The DryerWallVent's low-profile frame, recessed damper and hidden fasteners keep exterior lines simple and clean. Available in four powder coated colors, the finish complements every home's beauty.



Durability

Tough-as-nails deep-draw construction ensures a long duty life. The body is made of heavy-gauge Galvalume® steel. Combined with dense powder coating, DryerWallVents are corrosion resistant and impervious to sun and heat effects (unlike plastic vents).



Ease of Installation

New construction is a breeze. For straight forward installations in existing construction, the 1/16" smaller port slips quickly and tightly inside the in-wall duct. A caulk bead will usually be enough to finish the job, but there are hidden fastener holes for fast installation using four screws. For challenging installations, where more space is needed to fasten on wider openings, the DryerWallVent's chassis separates revealing additional fastener holes that are further toward the edges of the body.



Performance

Superior airflow efficiency is achieved with a large clean opening and lighter Galvalume® angled damper. Integrated magnets with rubber damper bumpers help for a quieter closing and help prevent pest intrusion.


Wondering why superior performance counts? Check out the Gallery of Shame to see what poorly engineered vents do to otherwise beautiful exteriors.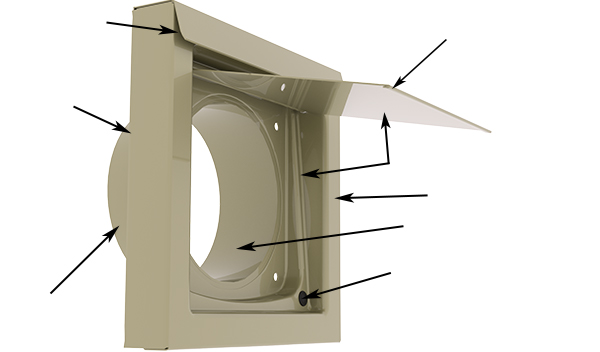 Minimal Airflow Restriction
The lighter damper contributes to airflow efficiency quickly opening for maximum exhaust flow.
Beautiful Homes
When you are in the business of building beautiful homes, select the DryerWallVent as a premium component that makes a positive contribution to exterior aesthetics.

My home's original dryer vent had been chewed to pieces by my new dog. This unit is well made, easy to install, and is flush against the house…dog-proof! I am very pleased with it.
— Henry Porter
, Homeowner - Scituate, MA


Easily the best, most attractive and most durable unit on the market.
— James Hartsell
, Builder - Charlotte, NC


This item is heavy duty, low profile and blends in nicely with my house. The vent is visible from the road, so I wanted something which looks good. I highly recommend it.
— Laurie Garvie
, Homeowner Hayward, CA


Great product, quick install, and looks good. Super value.
— Lyle Trapani
, Lake Arrowhead, CA